Rafting the Salmon…A Watershed Moment
In an entirely creative and poignant blog post, John Lavey of the Sonoran Institute, took an idea originally presented by explorer John Wesley Powell and created a new US map based on watersheds.
Why base a map on watersheds?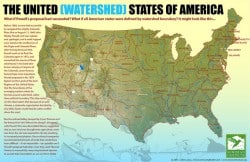 Originally, John Wesley Powell came up with the idea while exploring the West, "…[proposing] in 1879 that as the Western states were brought into the union they be formed around watersheds, rather than arbitrary political boundaries. This idea rested on the observation that because of an arid climate, a statewide organization decided by any other factor would lead to water conflict down the road." However, the rail lobby pretty much swayed Congress to create state boundaries in their current form. As Lavey points out, the potential for water conflict in an arid climate was too important an issue to ignore and, as Powell predicted, conflicts over water have indeed become more pronounced. To read the post in its entirety and explore some of Lavey's ideas about what we'd see as a nation if the watershed state delineation idea had survived click here.
Speaking of Watersheds…What Watershed Are We Rafting In?
For now, let's think about the water we are rafting on. If you are traveling to The River Company from Sun Valley you will find yourself in two completely different drainage areas. Think of a raindrop falling on Galena Summit, the summit you drive over to get to Stanley. Depending on what side of the summit it falls on will determine what river basin, thus watershed, our raindrop goes in. Ultimately both areas are part of the greater Columbia River Basin watershed, however, the raindrop that falls on the western side of Galena helps create the headwaters of the Salmon River and is part of the Upper Salmon River Basin watershed. Not far from the headwaters is where we begin our rafting trips. Our raindrop (and you) then takes a wild ride down a few class III rapids, enjoying incredible scenery, lots of wildlife and a whopping good time.
After leaving us at the take-out, having already dropped 2500 feet in elevation, the rain drop will descend another 3500 feet, traveling 425 miles, before it flows into the Snake River in Hells Canyon on the Oregon/Idaho border.
It will then travel northwest into Washington until the Snake River joins the Columbia in the Tri-Cities area. On it goes down the Columbia River, forming the border between Oregon and Washington for 325 miles until it hits the Pacific Ocean. In the end, our little raindrop has traveled over 900 miles and dropped just over 8700 feet in elevation going from Galena to the Pacific.
What Watershed Are You In?
Test your knowledge and imagine a drop of rain falling in your neighborhood or on a nearby mountain. Do you know the path it would take to get to the ocean or lowest geographical point? (You can find it here with your zip code.) Following it to its final destination, would you have a wild or tame ride? Mostly cities or wilderness? Take an imaginary journey through your watershed and what would you find?
That wraps up our geography lesson for the day, but stay tuned for Lonesome Larry's story, an epic journey about a famous fish whose travels in our watershed made headlines.