Top 5 Reasons To Have A Fly-fishing Guide On The Upper Salmon
In Sunset Magazine's October 2013 issue, author Laura Fraser, in "A River Runs Through Us," wrote that fly-fishing is much more challenging than putting a worm on a hook and dropping it into a lake. She goes on to explain that it's not the kind of thing you can learn on the fly, which is why having a guide is key. Since we couldn't have said it better ourselves, here are her top four reasons why you should consider a guide when fly-fishing in a new area, along with one added by us.
1) Trout feed on thousands of different insects and larvae, and you have to figure out what they're hungry for by inspecting what's in the air, on the water, and under rocks–which changes every day, every hour.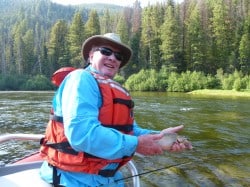 2) You have to be observant: If the water's surface is dimpled, fish are rising to bite.
3) You also have to ponder where the fish might be hiding out–behind rocks, in pools, or near a sunken log–to know where to cast.
4) And there isn't just one way to cast, but many: a roll cast to avoid the trees behind you, a curved cast to sneak under a riverbank, a gentle cast that won't alarm the fish, or one that plops to sound like a big insect hitting the water when the trout are in the mood to dine on grasshopper.
5) In addition to Laura's list, we add a reason specific to the Upper Salmon. The best way to fish here is by float-fishing so you can fish without having to walk, wade or drive.
Our professional, experienced guides take you down the river by raft with a specialized fishing frame, complete with casting platforms, and custom flies. Top-notch River Co. guide Ian Faurot says, "We are floating the river every day, observing the behaviors of the trout, noticing the subtle variations of the river and fishing the best holes." Ian and his fellow guides love to share their expertise, listen to your fish stories and even tell a few of their own. Our guests love the fact that when they book a fishing trip with us they get to choose the time, typically early morning or late afternoon, and the day is theirs.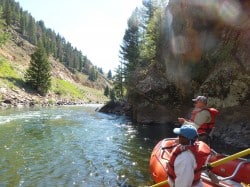 Go here for more information on our float-fishing trips and learn more about our 100% satisfaction guarantee.
See you on the river!